Ayurveda


Ayurveda, which literally means the science of life (Ayur = Life, Veda = Science), ayurveda is an ancient medical science which was developed in India thousands of years ago. Believed to have been passed on to humans from the Gods themselves, Ayurveda developed and evolved into what it is today from several ancient treatises, most notably Adharva Veda which dates back to five thousand years. The ancient Vedic literature by sages has clearly laid out instructions to maintain health as well as fighting illness through therapies, massages, herbal medicines, diet control and exercise.

Ayurveda is the soul and essence of Somatheeram, which has been providing Ayurvedic treatment the traditional way for more than 20 years and has rightfully earned the name 'The Ayurveda People'.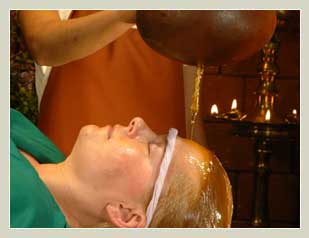 Treatments at Somatheeram take place under the supervision of qualified doctors and well-trained therapists in hygienically maintained environs. The herbal garden with more than 600 varieties of herbs provides the ingredients for various Ayurvedic medicines made with due care and diligence at Somatheeram's own medicine manufacturing unit.

At Somatheeram, a range of treatments and therapies are offered including basic massages, Pizhichil, Njavarakizhi, Sirodhara, Vasthi, Sirovasthi, Udvarthanam, Abhyangam, Nasyam, Thalam etc. Yoga enhances wellbeing of the body and mind.

In addition to having an Ayurvedic experience, enjoying a great holiday in the sunny beach is a special advantage at Somatheeram. In simple words, a complete makeover for the body and soul is what this Ayurvedic Resort is all about. And for the keen student of Ayurveda various courses are taught at Somatheeram by experts.